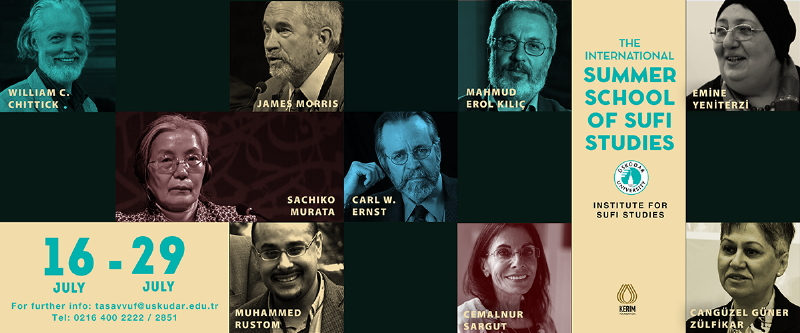 The International Intensive Summer School of Sufi Studies, July 16-29, 2018
The Institute for Sufi Studies of Üsküdar University, Istanbul, Turkey
About the Program
The Institute for Sufi Studies of Üsküdar University structured an international intensive summer school around the theme of Sufi Studies in Istanbul between July 16-29, 2018 with the generous support of Kerim Foundation. This intensive summer school will be in Istanbul, a beautiful and enchanting landscape, and the only city that bridges two continents – Asia and Europe united by the Bosphorus. This once in a lifetime opportunity to meet with the faculty of the summer school is open to students enrolled in MA and PhD programs.
The summer school aims to provide an immersive learning experience by combining its co-curricular activities with extracurricular activities. Some of these activities include field trips to historical sites and archives, study hours, movie screenings, cultural events, and seminars by renowned scholars of Sufi Studies. Certificates and transcripts will be provided based on request.
The faculty of the Summer School and the particular subjects they will be teaching are as follows:
Carl W. Ernst, Methodology of Sufi Studies,
William C. Chittick, The Divine Names in Sufi Theory,
Sachiko Murata, Islamic Thought in Chinese,
James Morris, Mysteries--and Presence: Exploring the Foundations of the Path,
Emine Yeniterzi, Ottoman Sufi Texts,
Cangüzel Güner Zülfikar, Ottoman Sufi Institutions.
There will also be panels by the faculty of Summer School, Mahmud Erol Kılıç, and Cemalnur Sargut. These will be open to public.
Classes
Dual-track classes will be conducted Monday through Sunday. Scheduling will be finalized based on participant profile. See the draft course schedule.
Activities
Guided trips to the Prime Ministry's Ottoman (Başbakanlık) Archives and the Süleymaniye Manuscript Library will introduce students to two fundamental primary source collections for the study of Ottoman history. Süleymaniye Library houses one of the richest Islamic manuscript collections in the world. Prime Ministry's Ottoman Archives is also by far the largest collection of Ottoman state documents.
In addition to classes, there will be visits to the historical sites of Old City and Uskudar; a Bosphorus tour will also be organized. Some classes will take place at historical sites.
Field trips will be done by public transportation and participants need to acquire Istanbul cards for themselves for this purpose.
Venue
Classes, unless noted otherwise, will take place at the Altunizade campus of Üsküdar University, Building D. The campus is conveniently located next to ISAM Library.
Address: Altunizade Mh. Haluk Türksoy Sk. No:14 PK:34662 Üsküdar / İstanbul / Türkiye
Application deadline is extended to June 25, 2018 !!!
Who can apply?
Credit transfer will be available for MA and Ph.D. students. A certificate will be issued upon successful completion of the specific course. Post-doctoral fellows and university faculty are also eligible to apply. A set number of undergraduate students will also be accepted based on academic merit. The students of the Continuing Education Programs of the Institute for Sufi Studies can apply to the summer school.
Accommodation inclusive fellowships are available; please see the details at How to Apply.
Tuition Fee
Tuition for summer 2018 will be $750 USD.
Recognition: This International Intensive Summer School could not have been realized without the continued backing and efforts of the Kerim Foundation http://kerimvakfi.org/
Important Notes
Airfare and visa arrangements and expenses are each participant's own responsibility.
Please make sure you have travel insurance and health insurance.
Üsküdar University ID cards for Summer School will be given to those accepted students after the complete registration. The ID cards are needed to have full access to the Üsküdar University Library.
All course material will be provided electronically for those registered students.
Please make sure you budget for lunch and dinner meals. Lunch is provided at the university's cafeteria and costs 9 TL.
How to apply?
Please fill in the Application Form and send it along with all the documents below to sufisummerschool@uskudar.edu.tr before the deadline (May 28th).
2. Statement of Purpose
3. Current CV
4. One recommendation letter (Especially commenting on your academic achievements, preferably from a previous instructor of a related field; to be submitted directly via e-mail to sufisummerschool@uskudar.edu.tr.)
5. Copy of the first page of passport for applicants from abroad; copy of the ID card for Turkish citizens.
The Sufi Studies Summer School Coordinator will respond to all applications three days after submission. First 20 female students who have been accepted will be awarded the Sufi Studies Summer School fellowship, which includes lodging and breakfast. A limited number of male students who have been accepted will also be eligible for fellowships.
We expect all candidates who receive acceptance letters to proceed with registration.
For those who apply from abroad:
To complete the pre-registration procedure please purchase your round-trip ticket and send your ticket to sufisummerschool@uskudar.edu.tr. In order to complete your registration, we expect you to pay the tuition fee [$750] at the University's Financial Affairs Office after your arrival and acquire your University Summer School ID cards.
TSV542_William Chittick Syllabus